Map to the exhibition venue (an alley opposite Incity- Yinzhou district):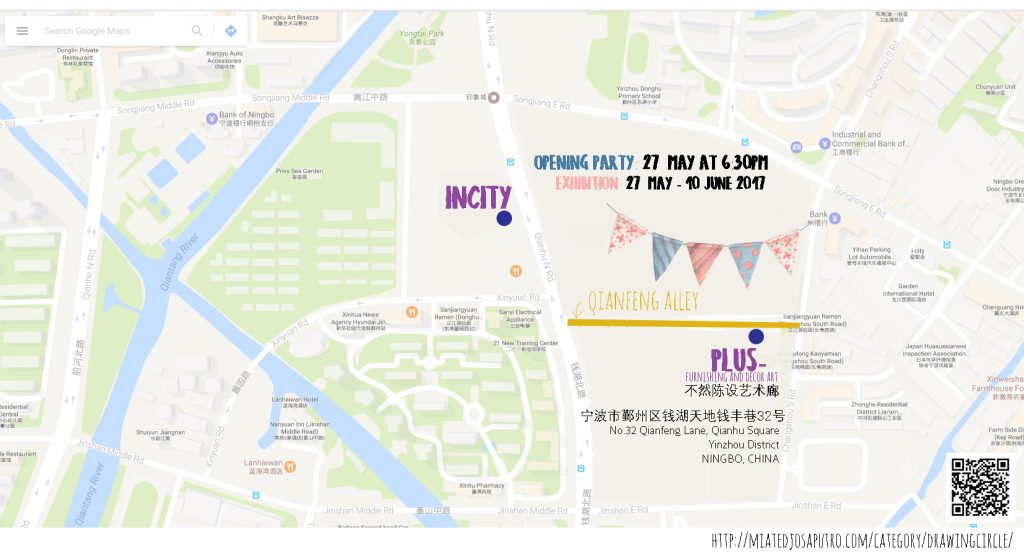 "Visual brain spew in a collective sketchbook!" is what the Drawing Circle in a nutshell.
SAVE THE DATE: 27 May 2017 at 6:30-8:30pm for the opening party. It is open to public and free admission, drinks can be purchase on the spot. Meet the sketchers (first and second year) and like minded people. The event is supported by Plus- furnishing and decor art and myself as the curator. All artworks courtesy (and made by) 12+1 sketchers who shared the same sketchbook for the last year.
The 12 sketchers are: Clotilde Sun, Yasmin Morgan, Esther Li, Jasmin Song, Zhan Xu, Elenor Smith & Elsa Smith, Kashan Sing, Troy Chen, Jon Castro, Gabriella Buttarazzi, Amarpreet Gill and Garima Gupta.
About the exhibition:Â This mini exhibition is fruit of the collective and collaborative effort of 13 sketchers (the loving sisters Elenor and Elsa shared the book) over a one year period. The drawing circle idea is: 12 sketchers, sharing the same sketchbook, with each sketcher keeping the book for a month. Afterwards, the book was passed to the next person until the end of the year.
Link to the Drawing Circle page  click here
Link to an introduction of the second year in Ningbo Guide June 2016Â click here
A glimpse of the exhibition venue click here.
Link to previous event last year, the Ningbo Local Drawing Circle 1 mini exhibition (photography and video) click here
When the Drawing Circle was started in March 2015. It was adopted from Brew Drawing Circles. click here.
The second year's sketchbook video (YouTube):
Bye for now and hope to see you there. Mia.