Link to Call for Participants posters, click here.
————
Hi all, thank you for your kind help. As you might aware, this session is part of my PGCHE (Postgraduate Certificate in Higher Education) assignment. It is a British Teaching qualification course I am taking with Falmouth University, UK.
We will be exploring a rather different teaching and learning concepts, flipped classroom and blended learning.  If you are curious, flipped classroom is a concept related to the shifting of the onus (responsibility) from facilitators to the students. Blended learning involves the use of online and offline materials and environment.
Date: 11 July 2020

Location: Virtual and IAMET218 (UNNC)

Time: 11am-12pm and the pre-classroom activities as below
PRE-CLASSROOM ACTIVITIES- SUMMARY:
Watch the three podcasts, please see the links below.
Do the short quiz (3 minutes top to fill in), link can be found below.
Look for group assignment
Prepare a group oral presentation (2 minutes each group of two- so one minute each person)
————
ACTIVITY 1: THREE PODCAST LINKS
Podcast 1- YouTube link: https://youtu.be/K_2H5I-enGM
Podcast 1- Youku link: https://v.youku.com/v_show/id_XNDc0Mjc1NTc5Mg==.html
Podcast 2- YouTube link: https://youtu.be/C-04o4TtgAs
Podcast 2- Youku link: https://v.youku.com/v_show/id_XNDc0Mjc2MTUwNA==.html
Podcast 3- YouTube link: https://youtu.be/xz0PUmj09Bc
Podcast 3- Youku link: https://v.youku.com/v_show/id_XNDc0Mjc3OTM0MA==.html
ACTIVITY 2: SHORT QUIZ
Link to the short quiz is as follow, https://www.surveymonkey.com/r/DF9FNPS
ACTIVITY 3: GROUP ASSIGNMENT
Will be communicated through Wechat. Depending which group (from 1 to 3) you are assigned, please prepare a group presentation based on the input text you are given.
Input texts are as follow:
TOPIC 1- Historical perspective: Topic 1 A History of Parametric

TOPIC 2- Types of parameters: Topic 2 Parameters

TOPIC 3- Scripting (see page 38-41): Topic 3 Scripting
ACTIVITY 4: PREPARING A GROUP ORAL PRESENTATION
Please communicate with your group member to arrange the two minutes presentation. It is suggested that each one of you prepare a minute presentation, with agreement with your group member.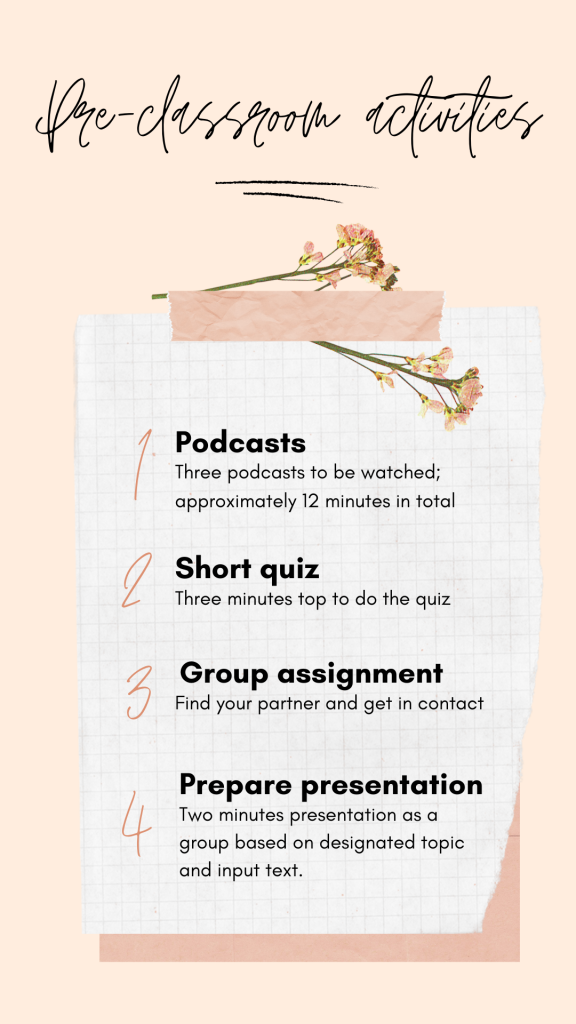 ————
CLASSROOM ACTIVITIES:
Powerpoint slides can be found here: PGCHE W5 Parametric Design final low.
In-class peer assessment link: https://www.surveymonkey.com/r/GBDSWNB
Learner's feedback on Flipped Classroom approach: https://www.surveymonkey.com/r/GBDX669
Hybrid F2F and virtual class footage: https://youtu.be/EsHM5LieoHg